I came across this nice Paste.com article reviewing a recently released DVD of shorts from East Germany called 'Red Cartoon: Animated Films from East Germany. The DVD includes shorts from the East German production studio DEFA:
"During its roughly 50 years of production, DEFA produced around 900 feature films and over 3000 documentaries. In a separate unit from the main studio at DEFA was DEFA Studio for Animation Film, which produced more than 800 films during its run. Of course, these were produced under the Communist Regime of East Germany and as such were never screened in America until just recently. A large number of these films still exist and, if First Run's DVDs are any indication, are surprisingly well-preserved."
The shorts remind me of Bill Plympton's stuff.  Very economical.  Look at this short below, and see how much is depicted just with sound.  Very subtle political messages, interesting stuff.
http://www.youtube.com/watch?v=z5ftnfwSr-k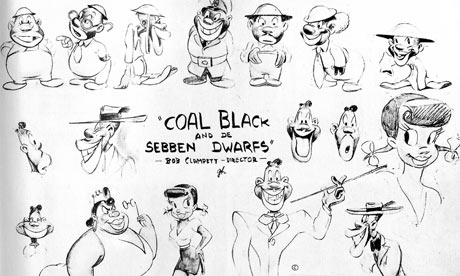 Also found this nice article in the Guardian about Disney and it's history portraying African-American characters in its films.  Did you know there is a character in Fantasia that was cut from the 1960 release of the film, and every subsequent version? She was 'Sunflower', a 'pickaninny' black centaur.
And lastly, William Shatner is to host the 37th annual Annie Awards in Los Angeles. The awards, which recognize animation, are put on by ASIFA-Hollywood, a branch of the International Animated Film Association. Click here for a list of nominees.
President Antran Manoogian said: 'ASIFA-Hollywood is honoured to have William Shatner host this year's Annie Awards. We are looking forward to Mr Shatner's unique and commanding presence presiding over the show.'